The Great Distance Runners
deep and unique statistics to the men's track distances and athletics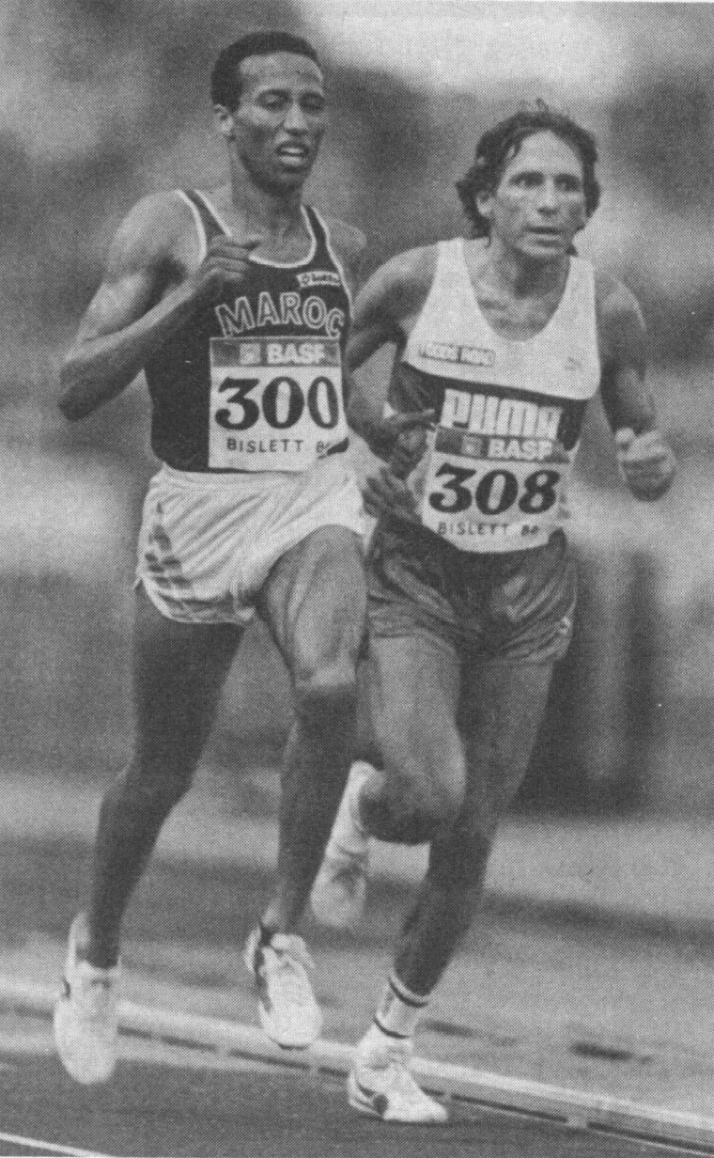 Said Aouita and Mark Nenow in a 10000m race in 1986 at the Bislett Games in Oslo
Surely the "greatness" of a runner depends for a lot from your own point of view about the subject. There are so many aspects which should be considered:
titles won - medals won - win-loss record - records set - longevity - versatility - number of competitions - personal bests - all-time rankings - class of competitors ...
Some only weight the Olympic medals the athlete has won, others only the records the athlete has set. I don't like something like this; I think we should look ON THE WHOLE CAREER of the athlete.
The main focus on this site are the track distance runners, the runners which had great success on the track over the distances from 800m to 10000m. Some of these runners which belong to the list of the greatest without any question: Paavo Nurmi, Emil Zátopek, Peter Snell, Kipchoge Keino, Sebastian Coe, Saïd Aouita, Noureddine Morceli, Haile Gebrselassie, Hicham El Guerrouj, Kenenisa Bekele, David Rudisha, Jakob Ingebrigtsen, and some more...
I havn't done many stats for women, mainly because I'm also very much interested in the historical part of the sport. On the womens side there isn't a similar improvement like on the mens side for some reasons which could be: greater importance of illegal drugs than on the mens side, not such a big importance on female sports in big parts of the world like for the men, only very late "acceptance" for many distances for the women...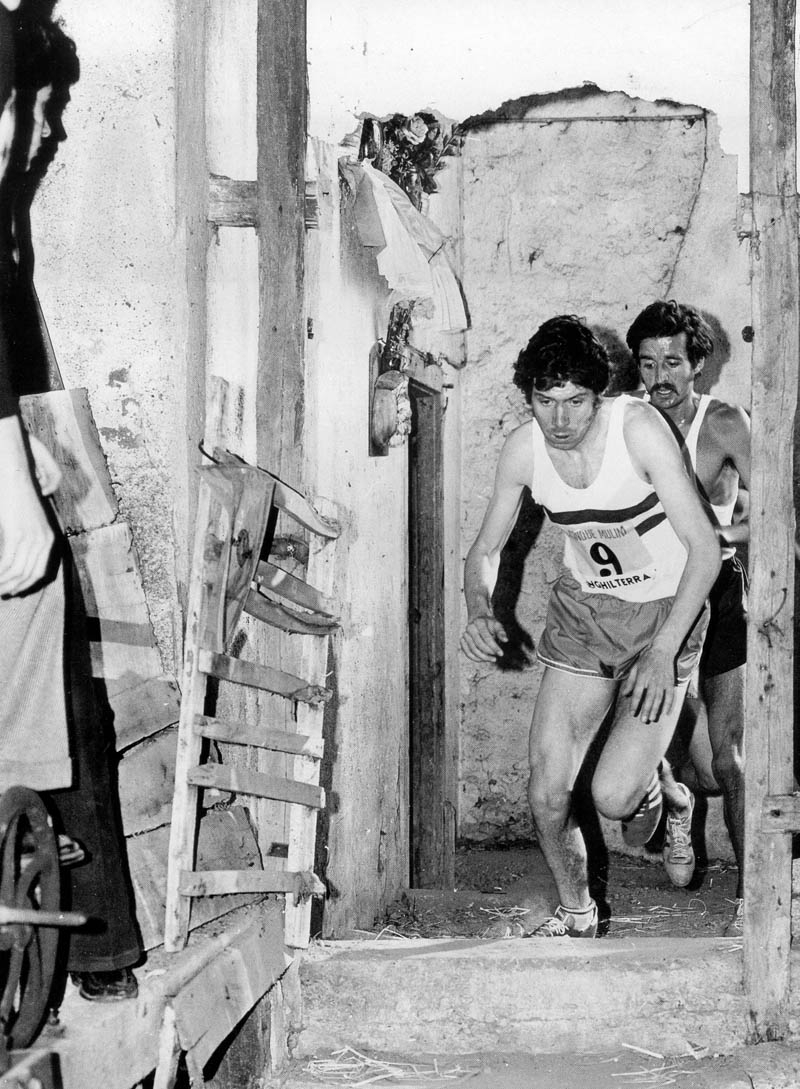 Brendan Foster leads Frank Shorter at the traditional Cinque Mulini XC
On this site you will find very extensive career records for many of the greatest distance runners, and also some other - unique - statistics. All of these stats are the result of many, many hours of work, which I have done over the past years. The formatting of these stats is far from perfect (it's much better with Mozilla than with IE on my computer...) at the moment - sorry for that. But I will try to better, so that it will become a pleasure to read them.
---
---
statistic of the greatest all-around track distance runners
The following statistics lists over 100 of the greatest all-around runners in history with all of there personal bests from 800m to 10000m including the Steeple.

The aim was to make a list of "versatile" runners, which had great success in at least two Olympic events or good results in at least three events. But there isn't something like an mathematical formula behind which runners are included and which not. But obviously a great runner like Wilson Kipketer can not be included, because he never had 1500m-results of some significance. But the portuguese Rui Silva - for example - is included, because of international class results from 800m to 3000m. Also hardly someone will call Silva the "better" runner.
Filbert Bayi from Tansania - at the 1974 Commonwealt Games in Christchurch he has set a new World Record
over 1500m after leading from gun to tape
Michel Jazy has set World Records over all distances in between 1500m and 5000m - in which he was the 2nd fastest all-time
---
runners with a unique string of personal bests
Setting a world record is obviously something very special - nobody in history has run any faster. But in some way it's also unique if a runner has achieved a string of personal bests over various distances in such a way, that no other runner has better personal bests in all of those distances. The following statistics lists such runners, who have such a unique string of PBs. To each runner there is given such a string of PBs. For sure this given string of PBs must not be the only one which would give the runner the membersip to this "club". Included are all the track distances from 60m up to 10.000m including the hurdles events. There are some "obscure" ones included (when a sprinter runs a 10.000m in a mediocre time, it could give him "membership" just because all the faster sprinters never have run the distance). And definitely many athletes are missing.

runners with unique string of PBs
---
progressive all-time lists
Unique progressive all-time lists for the different events. These lists should include all the results which qualified an athlete for an all-time top-10 performers position - at any date in running-history. It is very difficult to find all the necessary stats, so these lists definitely are not complete - especially for the early years. I tried to include any times known, also indoor times and intermediate times in longer events, what makes it much more difficult to get all necessary results. As always, I would be very happy for any additions.
the World Record holder over
1000m, Noah Ngeny, 1999 in Munich

in 1978, Henry Rono has set World Records over
3000m, 5000m, 10000m and the Steeple - unique
---
career records
Career records of some of the greatest - male - distance runners in history. Any addition to these lists is very appreciated!

It is very difficult to find enough data for some runners from the 1st half of the 20th century. Help is needed!

The following runners are also available: Arne Andersson, Said Aouita, Roger Bannister, Bernard Barmasai, Dieter Baumann, Luigi Beccali, David Bedford, Wilson Boit Kipketer, Pyotr Bolotnikov, Juri Borzakovsky, Jean Bouin, Brahim Boulami, Brahim Boutaib, Audun Boysen, Fermin Cacho, Chris Chataway, Richard Chelimo, Jerzy Chromik, Ron Clarke, Tom Courtney, Alberto Cova, Glen Cunningham, Herb Elliott, Mohamed Farah, Marcello Fiasconaro, Brendan Foster, Mohamed Gammoudi, Anders Gärderud, Haile Gebrselassie, Murray Halberg, Rudolf Harbig, Siegfried Herrmann, Derek Ibbotson, Volmari Iso-Hollo, Alberto Juantorena, Kipchoge Keino, Ezekiel Kemboi, Franz-Josef Kemper, Samson Kimobwa, Wilson Kipketer, Asbel Kiprop, Peter Koech, Hannes Kolehmainen, Vladimir Kuts, John Landy, Jules Ladoumegue, Werner Lueg, Taoufik Makhloufi, Sydney Maree, Jürgen May, Noureddine Morceli, Noah Ngeny, Gunnar Nielsen, Venuste Niyongabo, Harald Norpoth, Kerry O'Brien, Yobes Ondieki, Otto Peltzer, Gordon Pirie, Gaston Reiff, Ville Ritola, Gaston Roelants, Peter Rono, Istvan Rozsavölgyi, David Rudisha, Jim Ryun, Ilmari Salminen, Bob Schul, Nils Schumann, William Sigei, Khalid Skah, Peter Snell, Norman Taber, Naftali Temu, Paul Tergat, Siegfried Valentin, Pekka Vasala, Lasse Viren, Dan Waern, Thomas Wessinghage, Rick Wohlhuter, Sydney Wooderson, John Woodruff, Dave Wottle, John Zander, Emil Zatopek. If someone is interested in extensive career records please contact me.
---
career records for some non distance-running athletics all-time greats
---
national record progressions
National record progressions for some of the leading nations in the history of middle and long distance running. These progressions are not official or something like that, but as accurate as I could make them. Included are any marks which I could find, also indoor times and intermediate times. The german file includes FRG, GDR and GER records.
---
area record progressions
Links to record progressions of continental areas:
---
national records for many countries
1000m national records as at 31.12.2022
---
progression over the years
Graphical illustrations of the yearly leaders and the 10th fastest over the years in the main events.

800m-progression * 1500m-progression 3000m-progression 5000m-progression 10000m-progression 3000mSt-progression *
---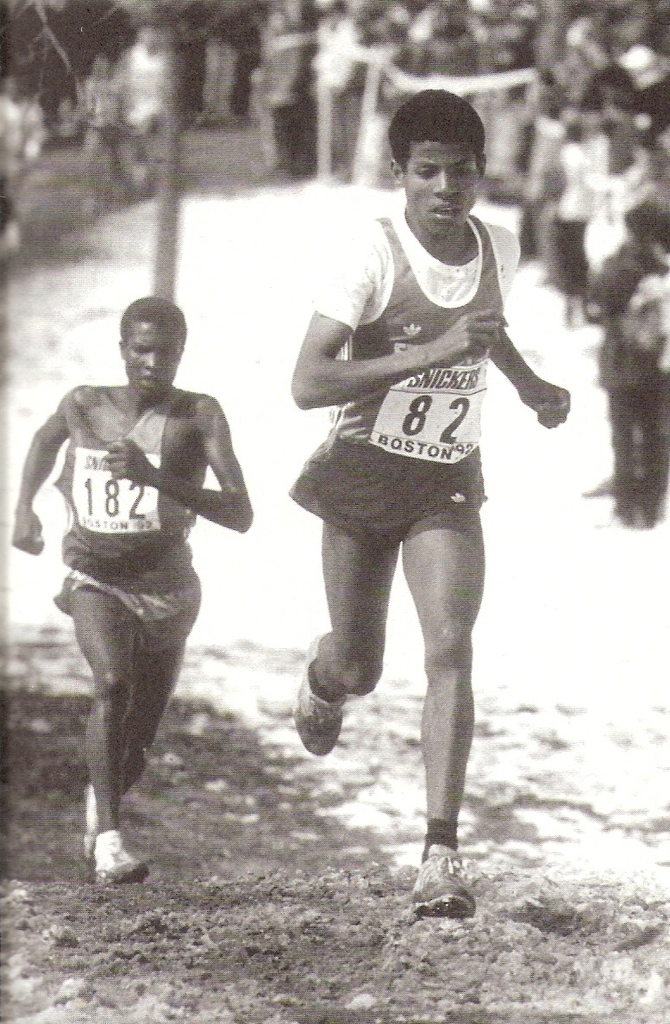 the greatest of them all: Haile Gebrselassie, seeing here in his junior days
---
videos and statistics: can someone help - is someone interested in unique DVD collections?
For many years I'm collecting videotapes of top-class athletics. I'm especially looking for old stuff from the early 1980s and the 1970s. If anyone has something from this period, it would be great if we could get in contact. Very high on my "wish list" are the World Records from Emiel Puttemans (1972 - 1973), Anders Gärderud (1972 -1976), Ben Jipcho (1973) or Henry Rono (1978). Or good coverage from the Scandinavian meetings in Stockholm, Oslo, Helsinki and others from the 1970s.
Another thing I'm looking for are career records for some record breakers from the first half of the 20th century. If anyone has some stats which could be of interest for me, I would be happy to get some copies.


I'm working on UNIQUE DVD career compilations for some of the greatest distance runners (and also other athletes like Merlene Ottey, Carl Lewis... in near future) as well as UNIQUE world record compilations in great quality with many many races/records you might never have seen before.

At the moment I can offer the following:


Sebastian Coe + Steve Ovett + Steve Cram (completely different from the compilation which was in ebay some years ago)
Said Aouita (including his 10000m in full and clip of steeplechase)
Noureddine Morceli (including 2 800m and 2 5000m races)
Haile Gebrselassie (including 2 800m and 9 1500m races)
Wilson Kipketer (including all his 7 world records in full)
Kenenisa Bekele

unique world record compilations
men's 100m
men's 200m + 400m
men's hurdles
men's 800m + 1000m
men's 1500m + 1 Mile
men's 3000m + 2 Miles
men's 5000m
men's 10000m
men's steeplechase
men's LJ + TJ
mens' HJ
men's PV
men's throws
men's relays

women's sprint
women's 400m
women's hurdles
women's middle distance
women's long distance
women's HJ
women's LJ + TJ
women's PV
women's throws
women's relays

For example: the men's HJ contains well over 40 different world record jumps or the men's 1500m/Mile well over 60 different world record runs, most of the ones from the last 50 years complete and in great quality. Please contact me - see below - if you are interested.
---
short profiles
The following link leads you to short profiles of many all-time greats. I will add more regularly.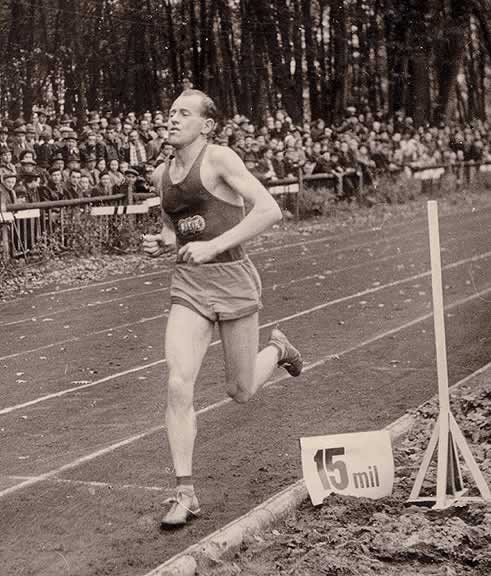 the great Emil Zatopek, who totally dominated the 10000m for several years
---
world record photos
Here you will find many photos from World Record races (and from World Best performances which were not officially recognised); it would be great to get one photo from every record.
---
photos from championship races
800m 1500m 3000m * 5000m 10000m 3000mSt *
---
distance running photos
Non world record photos from the history of distance running is what is in this section.

historical distance running photos
---
detailed world record informations
I'm starting to put in some detailed informations for some World Record races as race description, full result, intermediate times...

detailed world record informations

I'm just planning this, but have just to start - the first race discription will follow soon
---
Because of some request, here are links to articles which were published in the German magazine "Leichtathletik" some years ago. They are in german, but still someone may be interested in them.

Said Aouita John Walker Paavo Nurmi Lasse Viren Noureddine Morceli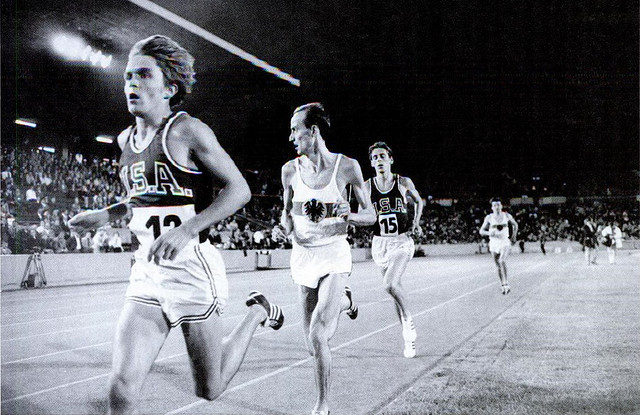 Steve Prefontaine leading Harald Norpoth in a dual meet FRG v. USA in 1970 in Stuttgart
---
useful links
| | | | | | | | | | | |
| --- | --- | --- | --- | --- | --- | --- | --- | --- | --- | --- |
| Some links to athletics related sites which I regularly use: | | | | | | | | | | Hicham El Guerrouj in 1997, who now holds for a full decade the World Records over 1500m, 1 Mile and 2000m |
---
abbreviations
Abbreviations for all of my statistics: WR : World Record - AR: Area (Continental) Record - NR: National Record - WIR : World Indoor Record (etc.) - WJR : World Junior Record (etc.) - OG : Olympic Games - OR : Olympic Record - OS : Olympic Stadium - GP : Grand Prix - y : achieved in Mile races - v. : versus - h : heat - qf : quarter final - sf : semi final - WC : White City - CP : Crystal Palace - MSG : Madison Square Garden - OF : official - HT : hand time - EL : electronic time - dnf : did not finish - (q.) : did qualify for next round - (n.) : did not qualify for next round

A number in red behind an performance always indicates the position on the all-time performers list the athlete reached with this performance. An +... gave the gap to the second placed athlete for a winning performance; an -... the gap to the winner, in an non-winning performance. To smaller venues, usually also the country is given; in some cases also the stadium is indicated.
---

Please send any comments, additions or corrections to:
stempel shop